Contact Information - Location
The BVC is conveniently located on 30th (Khaleej Al Arabi) Street in Khalidya, not far from Subway, Prestige Cars, the American Community School and Khalidya Park.

Drive NW (towards the sea) on Khaleej Al Arabi (30th) Street. About 200m after the Falah (9th) Street traffic lights, take the access road right to the car park beside our centre.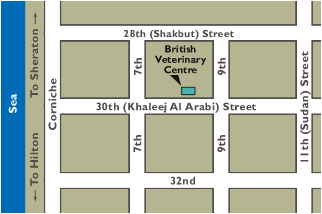 24°27'54.04"N
54°20'52.72"E


British Veterinary Centre
Abu Dhabi
United Arab Emirates
T: +971 (2) 665-0085
F: +971 (2) 665-0014
e: info@britvet.ae